Fortis Hiranandani Hospital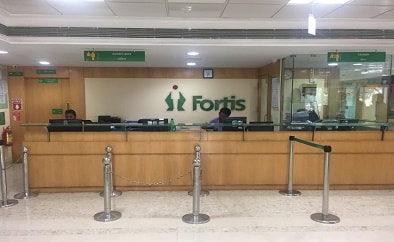 Established in 2007, Fortis Hiranandani Hospital is a multi-specialty hospital offering range of advanced medical treatments.
It is the only hospital in Navi Mumbai to be accredited by NABH.
The hospital has won recognition in the form of National Energy Conservation Award by President of India.
Hiranandani Hospital is the only hospital with an SRL-NABL accredited pathology laboratory.
It is equipped with comprehensive medical care facilities such as orthopedic science, cardiology, neurology, pediatric science, urology, nephrology, ENT and obstetrics and gynecology.
Spanned in an area of 1, 20,000 sq. ft., the hospital is equipped with 149 beds and a super ICU to provide emergency medical care to critically ill patients.
The hospital provides various accommodation options as well including a suite, single room and two room set.
It has a cafeteria which is located within the premises of the hospital and food is served throughout the day.
Additionally, there is a full-service pharmacy located within the hospital campus.
The neuro-science department is overseen by a team of renowned paramedical professionals.
Hospital has the team of highly dedicated professionals including nurses, doctors, technicians and management professionals.
Airport
Distance: 26 KMs
Time: 1 Hour
Railway station
Distance: 3 KMs
Time: 11 Minutes
Mini Sea Shore Road, Sector 10, Vashi
Mumbai 400703
India
TV in room
Private rooms
Free Wifi
Phone in Room
Phone in Room
Family accommodation
Laundry
Safe in the room
Nursery / Nanny services
Dry cleaning
Personal assistance / Concierge
Personal assistance / Concierge
Parking available
Health insurance coordination
Medical travel insurance
Foreign currency exchange
Medical travel insurance
Credit Card
Debit Card
Netbanking
Netbanking
Restaurant
International Cuisine
Interpreter
Translation services
Airport pickup
Local tourism options
Local transportation booking
Visa / Travel office
Car Hire
Air ambulance
We help you in selecting best Hospital at best package cost.