Madhukar Rainbow Children's Hospital, Malviya Nagar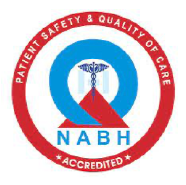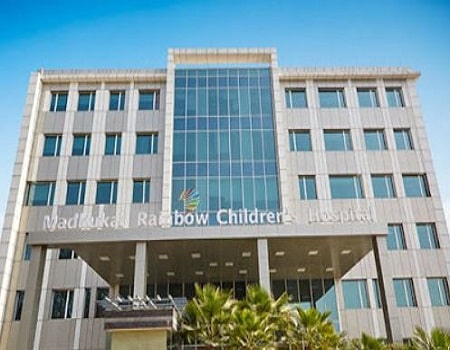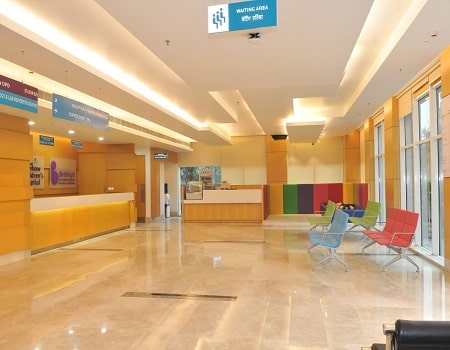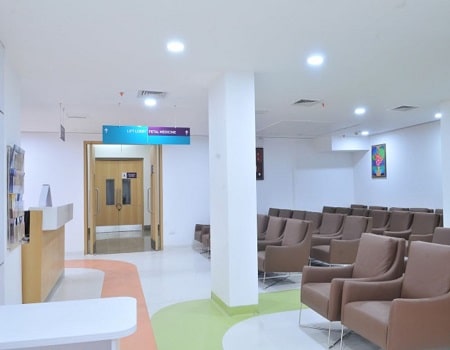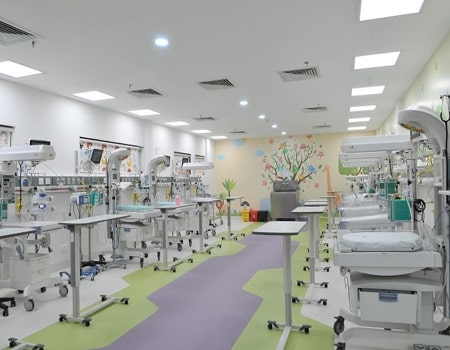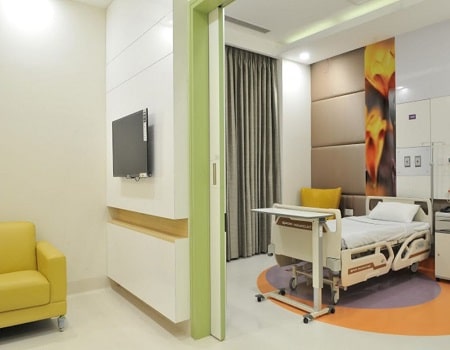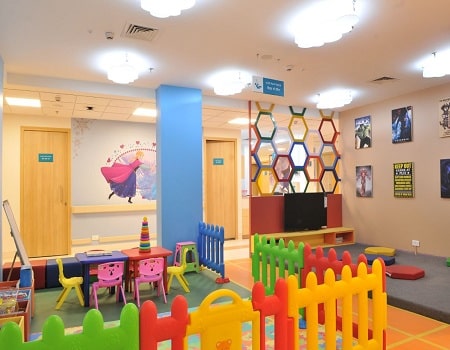 Established in 2018, Madhukar Rainbow Children's Hospital, Malviya Nagar, New Delhi, is a 150-bed multi-specialty and is accredited by National Accreditation Board for Hospitals and Healthcare Providers (NABH).
The Rainbow Group also has hospitals in Hyderabad, Bengaluru, and Vijayawada.
Rainbow Children's Hospital has been awarded "Best Children's Hospital in the country" by" CNBC, TV 18, ICICI Lombard at India Health Care Awards" in 2010.
The hospital was inaugurated by Vice President M. Venkaiah Naidu and it is the first standalone pediatric hospital in the private sector in the NCR that is designed, equipped, and staffed exclusively to treat children and adolescents under one roof.
It has a team of well-trained technicians, highly experienced medical specialists, and staff who takes care of the patients to ensure the highest safety.
It provides comprehensive care and services for children with disorders of the brain, spinal cord, nerves, and muscles by a team of Pediatric neurologists, Neurosurgeons, Developmental Pediatricians, and other medical professionals.
24*7 senior consultants are available for providing services such as advanced endoscopic and minimal access surgeries for newborns, infants, and children.
It provides a complete range of ventilators that deliver conventional or advanced ventilatory support, including HFOV and inhaled Nitric oxide therapy.
Facilities for TPN, point of care ultrasound, and functional echocardiography.
4 advanced operation theatres with comprehensive pediatric anesthesia and critical care services.
Child-friendly ambiance filled with vibrant colors that helps in the faster recovery of the kids.
Well planned separate wings for children, women, and expecting mothers.
The hospital is facilitated with modern and latest equipment with round-the-clock critical care and tertiary services in its Neonatal, Pediatrics and Perinatal wings.
There is a dedicated team of professionals at this premium hospital to help the patients coming from abroad to settle down and ensure that they receive the best possible treatment.
They also provide special facilities for international patients such as free of cost consultation with the treating doctors, assistance with visa free transportation from and to airport, arranging guest houses and serviced apartments.
The hospital has a team of nearly 17 specialists and other paramedical staff who work together to provide high-standard treatments.
Fetal medicine, perinatal healthcare, neonatal healthcare, and adolescent medicine all are looked after by globally trained, highly experienced doctors who are masters in their respective fields.
The well-trained nursing staff can handle complex situations with ease and answer all patients' queries during treatment and stay.
The team of pediatric surgeons in the hospital is highly skilled in carrying out a wide range of complex neonatal surgeries.
Airport

Distance: 15 KMs
Time: 30 Minutes

Railway Station

Distance: 17 KMs
Time: 41 Minutes

Taxi

Distance: 26 KMs
Time: 1 Hour

Metro

Distance: 1.4 KMs
Time: 4 Minutes

Numerous ATMs are available near the hospital.
One can easily find hotels in the nearby location of the hospital.
The hospital provide services like local SIM card, registration, local transportation, confirmation of air tickets, sightseeing, and assitance with visa extensions.
FC-29 5, Gitanjali Malviya Nagar Rd, Near Malviya Nagar Metro Station, Malviya Nagar
New Delhi Delhi 110017
India
TV in room
Private rooms
Free Wifi
Phone in Room
Mobility accessible rooms
Family accommodation
Laundry
Welcome Package
Safe in the room
Nursery / Nanny services
Dry cleaning
Personal assistance / Concierge
Religious facilities
Fitness centre
Spa and wellness
Beauty salon
Café
Business centre services
Shop
Dedicated smoking areas
Special offer for group stays
Parking available
Health insurance coordination
Medical travel insurance
Foreign currency exchange
ATM
Credit Card
Debit Card
Netbanking
Diet on Request
Restaurant
International Cuisine
Self-Cooking
Interpreter
Translation services
Airport pickup
Local tourism options
Local transportation booking
Visa / Travel office
Car Hire
Private driver / Limousine services
Shopping trip organisation
Air ambulance
We help you in selecting best Hospital at best package cost.