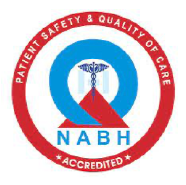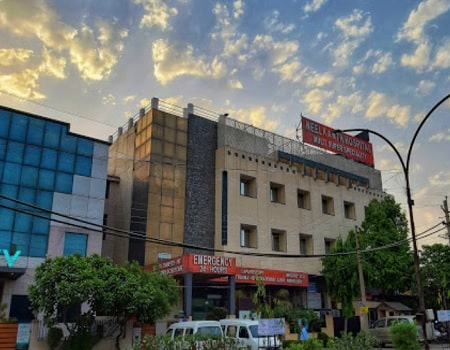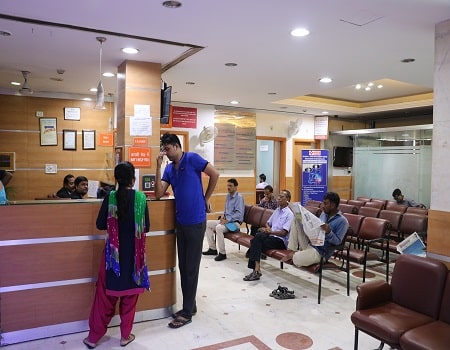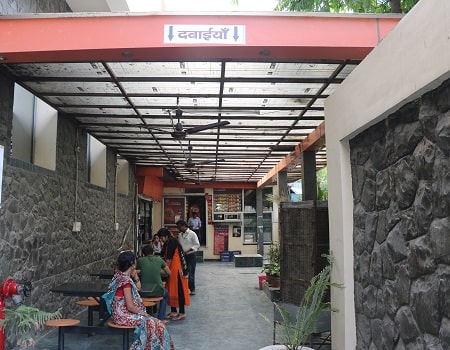 Founded in 2001, Neelkanth Hospital is a multi-specialty hospital that is famous for its IVF services.
Founded by Dr. Himanshu Garg and Dr. Bindu Garg, the group has branches pan India, including Gurgaon, Patna, Delhi, Lucknow and Hapur.
Accredited with NABH, it has provided Gurgaon with its first IVF baby in 2003.
The team at the hospital has bagged many awards, including:

Six Sigma Star Healthcare Awards
Won Power Brand Rising Star award
Mahatma Gandhi Samman in London

Strategically located in the center of Gurgaon, it has close proximity to metro, international airport and prominent places of interest in the city.
The hospital provides complimentary meal services for attendant with international patients.
The clinic has all the latest equipment and uses advanced technology required to get the best results in any medical procedure.
A full-service pharmacy and laboratory are located within the hospital campus.
It has a separate waiting area for OPD and IPD patients.
All the rooms are equipped with motorized patient beds, televisions and intercom.
The hospital has qualified nursing care team available to patients 24 hours a day.
There is a team of qualified and experienced specialists for each department, including IVF doctors, embryologists, cardiologists, Gynecologists and trained support staff.
It has 50+ doctors, 100+ nurses and 120+ support staff.
Dr. Bindu Garg leads the IVF and fertility department with her expertise of 30+ years.
Most of the doctors are working in other branches of the group and are operating as a visiting consultant.
Airport

Distance:  11 KMs
Duration: 18 Minutes

Metro

Distance:  5 KMs
Duration: 10 Minutes

Shopping malls and plazas are in walking distance
Easy availability of cabs and public transport
1, Main Mehrauli-Gurgaon Road, DLF Phase-III
Near Guru Dronacharya Metro Station
Gurgaon Haryana 122002
India
TV in room
Private rooms
Free Wifi
Phone in Room
Mobility accessible rooms
Family accommodation
Laundry
Welcome Package
Safe in the room
Nursery / Nanny services
Dry cleaning
Personal assistance / Concierge
Fitness centre
Spa and wellness
Beauty salon
Religious facilities
Café
Business centre services
Shop
Dedicated smoking areas
Special offer for group stays
Parking available
Health insurance coordination
Medical travel insurance
Foreign currency exchange
ATM
Credit Card
Debit Card
Netbanking
Diet on Request
Restaurant
International Cuisine
Interpreter
Translation services
Airport pickup
Local tourism options
Local transportation booking
Visa / Travel office
Car Hire
Shopping trip organisation
We help you in selecting best Hospital at best package cost.