Wockhardt Hospital, Umrao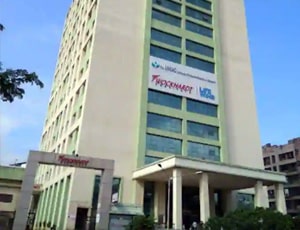 Inaugurated only in the year 2014 Wockhardt Hospital in Mira Road has been active in providing comprehensive healthcare and has become a name well revered by people for its high quality services given in a healthy and restorative environment.  High end critical care services are available in Wockhardt Umrao which includes consultancy for treatment packages and diagnostics service and therapies. It has a vast building with 14 stories dedicated to various departments making it a multi specialty tertiary care hospital. Clinical care of high quality is provided in Joint Replacement Surgery, Orthopaedics, Neurosurgery, Neurology and Cardiology.
Apart from the above they even provide services in Internal medicine, Nephrology and Urology, Cosmetology, Obstetrics & Gynaecology, Medical and Surgical Oncology, Minimal access surgery, and Emergency & Trauma Surgery. Though situated in the state of Maharashtra, due to its superior health care services it is not only popular in Virar and Vasai but also in the regions of the adjacent state of Gujarat.
350 hospital beds in the hospital
Day care unit for short stay
Dialysis unit totally equipped
For all access, digital documentation available
A 14 story building houses this hospital and it has a 350 beds capacity.
The hospital has a day care unit, dialysis unit, and digital documentation facility.
Treatment packages are available at the hospital as are Diagnostic and therapeutic services.
High end diagnostic services, 9 operation theatres and ICU facilities (24/7) are present.
Nephrology, Urology, Oncology, Orthopaedics, Cardiology, and Neurology departments in the hospital are worth a mention.
Minimal access surgery as well as Emergency & Trauma Surgery services are present in Wockhardt Umrao.
Comprehensive health check up option is available at Wockhardt Umrao.
It has all kinds of International patient care services including assistance for travel, transfer, accommodation and interpreters.
Bariatric Surgery
Cardiac Sciences
Cosmetic Surgery
ENT
Gastroenterology
General Surgery
Gynecology
TV in room
Private rooms
Free Wifi
Phone in Room
Mobility accessible rooms
Family accommodation
Laundry
Welcome Package
Safe in the room
Nursery / Nanny services
Dry cleaning
Parking available
Health insurance coordination
Medical travel insurance
Foreign currency exchange
ATM
Credit Card
Debit Card
Netbanking
Diet on Request
Restaurant
International Cuisine
Airport pickup
Local tourism options
Local transportation booking
Visa / Travel office
Car Hire
Air ambulance
We help you in selecting best Hospital at best package cost.